History of Microplas and Microplus
It is a difficult puzzle….
It all started in 1952 and let me start with a quote from this book:
Title: Something \'special\'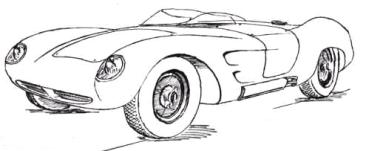 \" Microplas was started by two friends and myself in, I think, 1952. We were keen members of the 750 Club and the original purpose was to make bodyshells for 750 and 1172 specials. The first models were known as Stilettos. We were then joined at James Estate, Western Road, Mitcham, Surrey by another friend, who was building a special powered by one of Archie Butterworth\'s flat-four engines (not one of the swing-valve versions). He needed a body, and I designed the shell which became the Mistral – the side vents were to mate up with ducts from the air-cooled engine. As far as I know, the car was never completed, but the shell also fitted the 7 ft 6 in. Ford chassis and was used as a prototype for the Fairthorpe Electron Minor. Apart from Fairthorpe, we also sold shells to AFN and Morgan. In 1956, we sold a mould to a company in New Zealand which was thinking of building a sports car there. I went out to NZ in late 1956 to help with the project, and we built a prototype based on a simple twin-tube chassis with swing axle front end and a properly-located live rear axle. Power was initially a Ford 100E with an Elva overhead inlet valve conversion. This competed in several local races and was quite successful during 1957. I returned to England in 1958 after we had improved the shell with proper doors and an optional hardtop. I believe that some 15 or 16 kits were sold and, by sheer chance, I stayed with one of the customers during a return visit to NZ some six years ago. The first TVR (the Jomar) had bodywork based on two Mistral front ends. Microplas went on to build boats and other mouldings, including the fairings used on the Vincent Black Knight motorcycle. In the early days we were also involved with \'Pathfinder\' Bennett, who was trying to produce a microcar – the Fairthorpe Atom. These were very basic cars with motorcycle engines. I believe his son carried the name on to more successful cars. I have been speaking to a friend who was also involved with Microplas, who tells me that the Mistral-bodied Frazer-Nash was the one driven by Ken Wharton which crashed and burned out in one of the Ulster TTs. \"
In the mid 50's Microplas relocated its factory to Mitcham, Surry and before Microplas moved to the old Gloucester Airplane factory near Cheltenham, must have been around 1958, they started making Microplas boats.
Later the company was taken over by three new owners.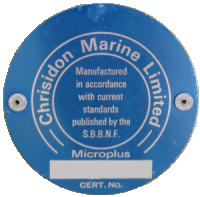 I do not know exactly what happened, but at some point, they sold the moulds or split the company in two Microplas and Chrisidon Marine Limited, Penvin, Pershore, Worcestershire. Reckon it must have been around 1974-1975. Microplas continued producing bodyshells and later pipes !
Stonar Marine Limited, Sandwich, Kent also manufactured Microplus and Buckingham.
In 1983 Shetland purchased the Chrisidon Marine Limited together with the trademark and the moulds. Shetland continued with the Microplus S/503 and the Micro 4 + 2 . Exactly when they stopped producing these two models, I have not found out yet. I have seen a Micro 4+2 built in 1996 though.
We have contacted Shetland for further information, but without success.
By Chris Walke & Michael Strunk Kristiansen